Threes Bar & Grill
1945 S. Kihei Rd.Ste.G Kihei, Hawaii 96753
Details:
About Three's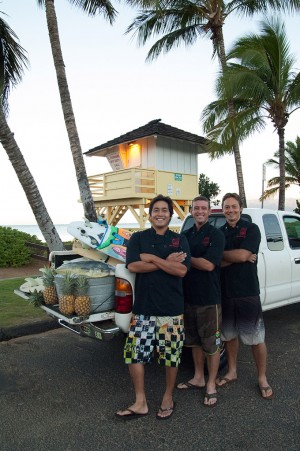 Chefs. Surfers. Friends. Travis Morrin, Cody Christopher, and Jaron Blosser discovered they share a fanatic enthusiasm for surf while working together at a top local restaurant six years ago. While surfing together around Maui they dreamt up the idea to start their own catering business using their regarded culinary school training and experience so they could surf whenever they wanted. Three's Catering was launched in 2009 using a rented warehouse and their old trucks. In a few short months, their unexpected success had them looking for permanent kitchen space, and they opened a restaurant in the current Three's Bar & Grill location in Kihei's Kalama Village where their menu has evolved incorporating the three chefs' three cuisines – Hawaiian, Southwestern and Pacific Rim. Three's is all about great food with locally sourced ingredients, creating memories, and the casual island lifestyle that these friends enjoy everyday.
Welcome to Three's Bar & Grill in Kihei, Maui. Chefs Jaron Blosser, Travis Morrin, and Cody Christopher have creatively fused Hawaiian, Southwestern, & Pacific Rim cooking styles to bring you an unforgettable dining experience.
Three's provides guests with an array of freshly prepared seafood, steaks, salads, pastas, and raw bar items (sushi) at affordable prices. Enjoy the comfort of Three's brand new Surf Lounge with our V.I.P couch section, or high-top surfboard tables. Watch the game on our big screen TV's, and enjoy late night dancing with our in-house DJ and no cover. Three's also provides professional catering services for any Maui event or wedding, with the most competitive prices on the island. Either way, Three's staff will make you feel right at home, and the food will keep you coming back for more. Let our guests persuade you with their rave reviews on TripAdvisor. online reservations3 chefs, 1 passion, 1 goal...Combine the smoky and spicy flavors of the Southwest, the unique and fresh flavors of the Pacific Rim, and most importantly, the local style of the Hawaiian Islands, and you have us, Three's Catering. We are three chefs with a combined twenty years experience in catering and culinary service. Our different backgrounds and styles bring much diversity and authenticity to our company. Food and service are our passion. We blend flavors, colors, and textures with hospitality, service, and comfort to provide you with an unforgettable dining experience. We work with only the freshest local seasonal ingredients, allowing you to truly taste the flavors of the islands.
Whether it's the wedding reception of your dreams, a private party, family reunion, or a romantic dinner for two, allow us to take care of you. We will cater to any and all of your needs and personalize any menu for you. Your business is our business, we like to say, so the sky's the limit. Aloha!
Last Tour Update: Aug 10, 2013